This page is about Bosch WAA282… and the Siemens WM14A2… series.
Problem description:
Your machine does not work at all. No lights, no 'beeps'.
The power cord is connected to an outlet and the outlet has power.
You did not experience problems before with the machine.
If this matches your situation, the PCB of your machine might be out of order.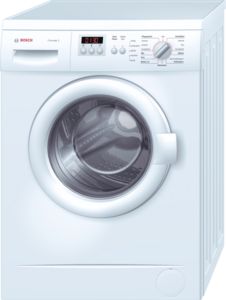 In your case, a new PCB would cost between € 165 and € 250.
But don't worry. I can repair PCB for you.
This is what the PCB looks like.
What should you do?
Double-check if the machine is realy out of order
Before you signup for repair, first double-check whether your machine realy has a defect. So no more lights or beeps when you switch the machine on – and check whether there is voltage on the outlet.

Signup for repair
If the machine still doesn't work, then you can signup for repair.
We repair – among others – to the following models
Bosch:
WAA28220
WAA28222
WAA28260
WAA28261
WAA28280

Siemens:
WM14A220
WM14A222
WM14A260
WM14A261
WM14A280

Is your model not in the list? We repair many brands and models. Please contact us for more information.